The Best Craft tools for paper crafting
Are you ready to start making beautiful things with paper? I am so excited to start paper crafting with you. First we need some tools to make paper crafting easy. It can be overwhelming when you first start paper crafting to know what tools there are. Let alone which are the best. Don't worry we can do this paper crafting thing together.
What is paper crafting?
Paper crafting is the art of using paper or cardstock to create one, two or three dimensional objects.
What are examples of paper crafting?
Paper Flowers
Cards
Scrap booking
Paper Gifts
Quilling
Paper Mache
Origami
Paper Cutting
Decoupage
Paper houses
3D filgree
Layered papers with cut outs
There are so many things that can be created with paper crafting. I had no idea the possibilities and how much I would love paper crafting when I first started out with my very first paper flower.
That first paper flower started it all. It sparked my interest in the possibilities of paper crafting and I haven't been able to stop since. I've created cards, paper flowers, signs, origami, scrapbooks, holiday decor and more.
Once you start paper crafting there's a whole new world of options to create.
What are the best tools for paper crafting.
There a lots of tools for paper crafting. You don't need to buy them all at once.
As your paper crafting skills grows so will the tools you want to use. These are the best tools to consider while growing your paper crafting skills.
This post contains some affiliate links for your convenience(which means if you make a purchase after clicking a link I will earn a small commission at no additional cost to you)! Read my Full disclosure HERE.
Cricut Maker
This is the ultimate paper crafting and beyond craft tool. It can be used on paper, material, thick card stock, thin woods and metals and more. It's crafting possibilities are endless.
Cricut Explorer Air 2
This is the next best thing compared to the Cricut Maker. It can do all things paper crafts and is an amazing paper crafting tool. It's extension to other materials is more limited.
Recollection Card stock
This card stock is the best. Super bright double sided coloring. I love the 65lb card stock for paper crafting. It's the perfect thickness. You could always use a thinner weight if desired.
Scotch Precision Ultra Edge Scissors
These are the best scissors for Paper crafting. Super sharp.
Hot Glue
Of Course we need glue to put our paper craft masterpieces together.
Quilling tool- A.K.A. Pencil
Quilling tools are used to curl the edges of the paper crafts into place. I like to use a pencil.
the best Craft tools for paper crafting
Plus get our bonus Dollar Tree Cricut Supply Ideas Printable free.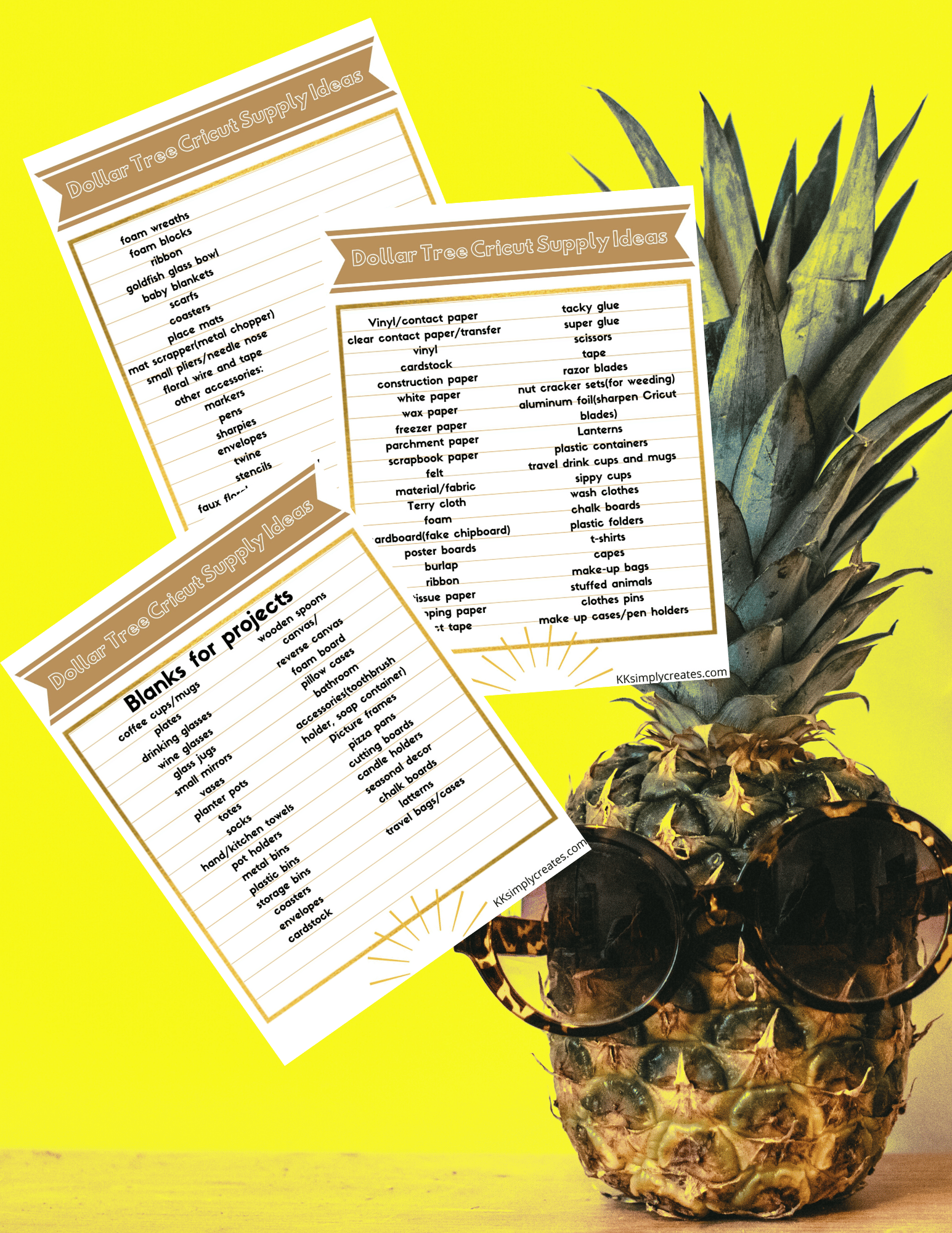 We hate spam and promise to keep your email private.
Get Instant Free access!
Don't let the thought of needing all these tools keep you from getting started.
It's easy to start paper crafting with just some paper, glue and scissors.
As your paper crafting skills grow so will your desire to expand your paper crafting tools.
Start paper crafting today and just keep creating.
XOXO,
KK
P.S. Do you love The Best Craft Tools for Paper Crafting? Pin them on PINTEREST!